Patient Hoist: Essential for Safe Transfer patient from Chair to Restroom
For individuals who are elderly, disabled or suffer from mobility issues, transfer patient from chair to restroom can be a difficult and risky task. This is where a patient hoist or a patient lifter comes in. It is an assistive device that helps transfer patients from one location to another without causing strain or injury to the patient or the caregiver.
A patient hoist is a lifting machine that is designed to assist in the safe transfer of a patient from a chair to the restroom or vice versa. The hoist consists of a sling that is placed around the patient's body and a motor that lifts and lowers the patient. The hoist is operated by a caregiver or healthcare professional who has received training on patient transfer techniques.

Using a patient hoist provides a number of benefits to both the patient and the caregiver. Firstly, it ensures the safety of the patient during the transfer process, reducing the risk of falls and injuries. Secondly, it helps to reduce the physical strain on the caregiver, preventing them from sustaining injuries while lifting or carrying the patient.
To use a patient hoist, the caregiver must first position the hoist next to the patient's chair. They then need to ensure that the sling is securely in place around the patient's body. Once the sling is secure, the caregiver can then use the motor to lift the patient off the chair and transfer them to the restroom or another location.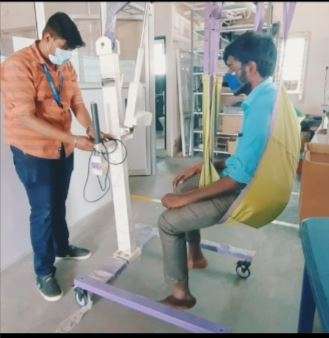 When using a patient hoist, it is important to follow the correct patient transfer techniques to ensure the safety of both the patient and the caregiver. The caregiver should avoid sudden movements and ensure that the hoist is always under control.
Choosing the Right Patient Hoist

When choosing a patient hoist, it is important to consider the needs of the patient and the caregiver. The hoist should be able to accommodate the weight of the patient and be adjustable to fit the patient's body shape. Additionally, it should be easy to use and maneuverable to allow for easy transfer between
locations.
In Conclusion
Using a patient hoist is an essential tool for ensuring the safe transfer of patients from a chair to the restroom or other location. It helps to reduce the risk of injury to both the patient and caregiver and makes the transfer process much easier and more comfortable. When choosing a patient hoist, it is important to consider the needs of the patient and the caregiver to ensure that the hoist is the right fit for their needs with good actuators, For more product like this kindly visit our website https://patienthoist.in/